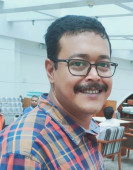 Smarajit Polley
Assistant Professor
Previous appointments:
2008 – 2016        Postdoctoral Researcher at the Dept. of Chemistry and Biochemistry, Univ. of California San Diego, La Jolla, California, USA.
 Postdoctoral Researcher at the Laboratory of Genetics, The Salk Institute for Biological Studies, La Jolla, California, USA.
2016 – present     DBT Wellcome Trust India Alliance Intermediate Fellow
Research interests:
Mechanism at Highest Resolution:
We investigate critical regulatory mechanisms in biology, using Protein chemistry, MS, X-ray crystallography, CryoEM, Spectroscopy, macromolecular interaction studies, molecular biology, in vitro and cellular biochemistry. 
Contact:
Address:
Biological Sciences
Unified Academic Campus
Bose Institute
EN-80, Sector V
Bidhan Nagar
Kolkata - 700 091, India
E-Mail:
spolley[at]jcbose.ac.in
Phone:
+91-33-25693300
Research:
Themes:
Understanding the Biochemical and Structural Basis of Signalling Modularity of Kinases in Their Biological Context
Human genome encodes more than 500 protein kinases, many of which are drug targets. Some kinases show complex behavior; they play both beneficial and harmful roles in our body depending upon the situation. Focus of this proposal is to decipher biochemical and structural basis of regulation of two different kinase systems using interdisciplinary experimental approaches. Inhibitor of kappaB kinase is known regulate a number of cellular pathways in response to a diverse extra-cellular stimuli ranging from pathogen-derived substances to inflammatory cytokines, to antigens, to metabolic and genotoxic stresses. Aberrant IKK-activity is associated with a large number of human diseases. However, efforts to develop IKK inhibitors of clinical relevance achieved little success because of intolerable side effects upon prolonged treatment. It is desirable to design inhibitors that will block aberrant activity of IKK without affecting its protective role. While specific inhibition of activated IKK-kinase will help better tackle autoimmune diseases and cancers, prolonging the DLK-kinase activity will be beneficial for neuronal regeneration after injury as it is a critical regulator of those pathways in the nervous system. This study will help to design potent and safer molecules to control two distinct paradigm of kinase regulation.  
Understanding the Structural basis of cancer promoting function of p53 GoF (Gain of Function) mutants
The TP53 gene is the most frequently mutated gene in cancer. The p53 protein is termed as the guardian of the genome which is a pro-apoptotic, tumor suppressor protein. In normal cells the p53 is maintained at a very low level which is continually degraded by the proteasome. Upon genotoxic stress p53 gets stablilized and leads to apoptosis. However, mutant p53s lack this regulation and function. Moreover, some of these mutants helps in tumor progression, and they are called the Gain of Function mutants. One of the proposed mechanisms by which they achieve this new function is by recruiting some other transcription factors to novel locations on the genome. In order to gain better insight to this problem, we took structural and biophysical approaches to study these complexes of GoF p53 with other transcription factors like Ets2. 
Protein Design and Directed Evolution: Exotic Enzymes!
Protein design and evolution in test tube is another aspect that we are interested in. It has been shown that structure guided design and directed evolution can lead to proteins with novel catalytic activity as well as improved catalytic activity and resilient enzymes. We have selected enzymes with beneficial role in bioremediation in order to subject them in our protein design theme. 
Publications:
Smarajit Polley, Dmitry Lyumkis, Nancy C. Horton. Mechanism of Filamentation-Induced Allosteric Activation of the SgrAI Endonuclease. Structure. 2019 Oct 1;27(10):1497-1507.e3. doi: 10.1016/j.str.2019.08.001.
Smarajit Polley, De-Bin Hunag, Tapan Biswas & Gourisankar Ghosh. A guide to production, crystallization, and structure determination of human IKK1/alpha. Journal of Visualized Experiments. 2018; e56091. doi:10.3791/56091.

Smarajit Polley, Dario Oliveira Passos, De-Bin Huang, Maria Carmen Mulero, Anup Mazumder, Tapan Biswas, Inder M Verma, Dmitry Lyumkis & Gourisankar Ghosh. Structural Basis for the Activation of IKK1/alpha. Cell Reports.  2016 Nov 15;17(8):1907-1914. 

Arunava Roy*, Prasenjit Chakraborty*, Smarajit Polley*, Dhrubajyoti Chattopadhyay & Siddhartha Roy. A peptide targeted against phosphoprotein and leader RNA interaction inhibits growth of Chandipura virus – an emerging rhabdovirus. Antiviral Research. 2013 Nov; 100(2):346-55. (* equal contribution)

Smarajit Polley*, De-Bin Huang*, Arthur V Hauenstein*, Amanda J Fusco, Xiangyang Zhong, Don Vu, Barbel Schröfelbauer, Youngchang Kim, Alexander Hoffmann, Inder M Verma & Gourishankar Ghosh, Tom Huxford. A structural basis for IKK2 activation via oligomerization-dependent trans auto-phosphorylation. PLoS Biology.  2013 Jun 11; 11(6): e1001581. (* equal contribution)

Barbel Schröfelbauer, Smarajit Polley, Marcelo Behar, Gourishankar Ghosh & Alexander Hoffmann. NEMO ensures signaling specificity of the pleiotropic IKKβ by directing its kinase activity toward IκBα. Molecular Cell. 2012 Jul 13; 47(1): 111-21.

Smarajit Polley, Soumi Guha, Sanchari Kar, Neeladrisekhar Roy, Kazuyasu Sakaguchi, Yoshiro Chuman, Venkatesh Swaminathan, Tapas Kundu & Siddhartha Roy. Differential Recognition of Phosphorylated Transactivation Domains of p53 by Different p300 Domains. Journal of Molecular Biology 2008 Feb 8; 376(1): 8-12.

Soumen Basak, Smarajit Polley, Mausumi Basu, Dhrubajyoti Chattopadhyay & Siddhartha Roy. Monomer and Dimer of Chandipura Virus Unphosphorylated P-protein Binds Leader RNA Differently: Implications for viral RNA synthesis. Journal of Molecular Biology. 2004 Jun 18; 339 (5):1089-101.

View More
Recognition:
Wellcome Trust DBT India Alliance Intermediate Fellowship, 2015
Ramalingswami Re-entry Fellowship , 2015
Travel award and oral presentation at Keystone Symposium on "NF-B Signaling and Biology: From Bench to Bedside", Whistler, Canada, 2012
Teaching:
In Bose Institute (M.Sc., as part of the Int. Ph.D. program): 
Ø  Course 406: Biochemistry (Metabolism).
Ø  Course 404: Spectroscopy and Its Applications in Biology
Ø  Course 605: Methods of High-resolution Structure Determination (X-ray Crystallography and Cryo-Electron Microscopy).
Ø  Course 504: Chemical and Systems Biology (Chemical Biology)
Ø  Course work for Ph.D. Students at BI: Cryo-Electron Microscopy
Students:
| | | | | | | |
| --- | --- | --- | --- | --- | --- | --- |
| Image | Name | Designation | Department | Campus | Contact number | Email |
| | Afreen Haque | Junior Research Fellow | Biophysics | Centenary | | afreenhaque19@gmail.com |
| | Samrat Mitra | Junior Research Fellow | Biophysics | Centenary | | samratmitra07@jcbose.ac.in |
Former:
Group News: