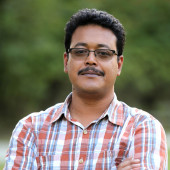 Smarajit Polley
Intermediate Fellow
Download CV
Previous appointments:
Department of Chemistry and Biochemistry, University of California San Diego, La Jolla, California, USA.
Laboratory of Genetics, The Salk Institute for Biological Studies, La Jolla, California, USA.
Research interests:
Understanding the Structural and Biochemical Basis of Signalling Modularity in Eukaryotic Protein Kinases.
Protein-Nucleic Acid Interaction
Protein Design


Experimental Techniques to be used: Cryo-EM, X-ray Crystallography, Chemical Genetics and Chemical Biology, Mass Spectrometry, Fluorescence Spectroscopy and other Biophysical Techniques, Cellular Genetics and Biochemistry. 
Contact:
Address:
Department of Biophysics
Centenary Campus
Bose Institute
P-1/12 C.I.T. Scheme VII-M
Kolkata - 700054, India
E-Mail:
spolley[at]jcbose.ac.in
Phone:
+91-33-25693345
Research:
Understanding the Structural and Biochemical Basis of Signalling Modularity in Eukaryotic Protein Kinases.
Maintenance of the proper phospho-proteome at any given time is crucial for the well-being of an organism. The status of the phosphor-proteome is dependent upon the action of two classes of enzymes: kinases and phosphatases. Primary focus of the laboratory is to understand the biochemical and structural basis of kinase-function in cells, using physiologically important kinases as model systems. The human genome encodes more than 500 protein kinases, which provide the regulatory framework for most signaling pathways in eukaryotic cells. They create modified chemical entities by adding phosphate groups to amino acids that provide altered functionality to protein substrates. Stringent regulation of kinase-activities is critical to proper functioning of cellular processes making protein kinases important drug targets. Many of them show signaling modularity entailing both beneficial and harmful outcomes, depending upon the situation. Indiscriminate inhibition of these activities by active-site directed drugs often lead to deleterious side-effects. It is important to investigate the mechanistic details of their activation and spatio-temporal regulations to fully realize the scope of controlling them in a manner beneficial for the organism.
Signaling modularity is dictated by choice of substrates, cognate-binding partners, subcellular localization and post-translational modifications of the kinase itself. Systematic investigation of kinase-signaling complexes at different stages (pre- and post-stimulation) of action might enable us to modulate them more appropriately in a given patho-physiological condition without affecting their role in normal cell physiology.
Protein-Nucleic Acid Interaction
Protein-Nucleic Acid Interactions play pivotal role in biology. Regulation of gene expression often dictates the fate of an organism in response to stress. We would like to understand how protein-DNA/RNA interaction govern the outcome of a gene expression program in response to stress.
Approach: In my laboratory, a unique combination of biochemical, biophysical, genetic, synthetic and structural biology approaches will be adopted to investigate regulatory mechanisms critical for signaling modularity in a context dependent manner. Special emphasis of the laboratory is to apply hybrid structural approaches combining cryo-EM and X-ray crystallography to decipher the structure-function relationship of large signalling complexes that are inherently labile and heterogeneous.    
Publications:
Research Publications
 

Smarajit Polley, Dario Oliveira Passos, De-Bin Huang, Maria Carmen Mulero, Anup Mazumder, Tapan Biswas, Inder M Verma, Dmitry Lyumkis, Gourisankar Ghosh. Structural Basis for the Activation of IKK1/

alpha

.

Cell Reports.  2016 Nov 15;17(8):1907-1914.
Arunava Roy*, Prasenjit Chakraborty*, Smarajit Polley*, Dhrubajyoti Chattopadhyay and Siddhartha Roy. A peptide targeted against phosphoprotein and leader RNA interaction inhibits growth of Chandipura virus – an emerging rhabdovirus. Antiviral Research. 2013 Nov; 100(2):346-55. (* equal contribution)
3.     Smarajit Polley*, De-Bin Huang*, Arthur V Hauenstein*, Amanda J Fusco, Xiangyang Zhong, Don Vu, Barbel Schröfelbauer, Youngchang Kim, Alexander Hoffmann, Inder M Verma, Gourishankar Ghosh, Tom Huxford. A structural basis for IKK2 activation via oligomerization-dependent trans auto-phosphorylation. PLoS Biology.  2013 Jun 11; 11(6): e1001581. (* equal contribution)
4.     Barbel Schröfelbauer, Smarajit Polley, Marcelo Behar, Gourishankar Ghosh, Alexander Hoffmann. NEMO ensures signaling specificity of the pleiotropic IKKβ by directing its kinase activity toward IκBα. Molecular Cell. 2012 Jul 13; 47(1): 111-21.
5.     Smarajit Polley, Soumi Guha, Sanchari Kar, Neeladrisekhar Roy, Kazuyasu Sakaguchi, Yoshiro Chuman, Venkatesh Swaminathan, Tapas Kundu, Siddhartha Roy. Differential Recognition of Phosphorylated Transactivation Domains of p53 by Different p300 Domains. Journal of Molecular Biology 2008 Feb 8; 376(1): 8-12.
6.     Soumen Basak, Smarajit Polley, Mausumi Basu, Dhrubajyoti Chattopadhyay and Siddhartha Roy. Monomer and Dimer of Chandipura Virus Unphosphorylated P-protein Binds Leader RNA Differently: Implications for viral RNA synthesis. Journal of Molecular Biology. 2004 Jun 18; 339 (5):1089-101.
Review Articles:
1.     Soumen Basak, Arindam Mondal, Smarajit Polley, Subhradip Mukhopadyay and Dhrubajyoti Chattopadhyay; Reviewing Chandipura: A vesiculovirus in human epidemics. Bioscience Reports, 27(4-5): 275-98, Oct 2007.
View More
Recognition:
Wellcome Trust DBT India Alliance Intermediate Fellowship, 2015
Ramalingaswami Re-entry Fellowship, 2015
Teaching:
Course 406: Biochemistry (Metabolism).
Course 605: Methods of High-resolution Structure Determination (X-ray Crystallography and cryo-Electron Microscopy).
Course 504: Chemical and Systems Biology (Chemical Biology)
Present:
| | | | | | | |
| --- | --- | --- | --- | --- | --- | --- |
| Image | Name | Designation | Department | Campus | Contact number | Email |
| | Bhawna Pandey | JRF | Biophysics | Centenary | 25693345 | bhawna |
| | Pranita Ray | JRF | Biophysics | Centenary | 25693345 | pranitaray27@gmail.com |
| | Prateeka Borar | JRF | Integrated M.Sc. Ph.D. | Main | | prateekaborar@gmail.com |
Former:
Post-doctoral Fellow:
Dr. Dwijit Guha Sarkar; Email: dwijit@gmail.com

Ph.D. Student:
Bhawna Pandey; Email: pbhawna92@gmail.com
Project Trainee:
Arnab Ghosh
Madhurima Chakraborty
Past Members:
Tilottama Chatterjee (Summer 2016)
Samadrita Mondal (Short Term 2016)
Group News: