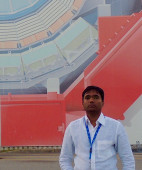 Sidharth Kumar Prasad
Associate Professor
Previous appointments:
Assistant Professor, Bose Institute, Kolkata, INDIA, October 2015 – January 2020
Research Associate-II, Bose Institute, Kolkata, INDIA, September 2014 – September 2015
Research Associate-I, Bose Institute, Kolkata, INDIA, September 2013 – August 2014
Postdoctoral Fellow, Wayne State University, Detroit, Michigan, USA, January 2011 – August 2013
Research interests:
Research area: Experimental High Energy Physics (HEP)
Goal: Study the properties of quantum chromodynamics (QCD) matter under extreme conditions of temperature and/or pressure using heavy ion collisions.
Contact:
Address:
Physical Sciences
Unified Academic Campus
Bose Institute
EN-80, Sector V
Bidhan Nagar
Kolkata - 700 091, India
E-Mail:
sprasad[at]jcbose.ac.in
Phone:
+91-33-25693244
Research:
My research work is in the field of Experimental High Energy Physics (HEP) and focus on the characterization of a novel state of QCD matter with partonic degrees of freedom known as Quark Gluon Plasma (QGP) formed in relativistic heavy ion collisions. My research activities include: (a) Detector development & instrumentation for the HEP experiments (b) Active participation in two most important experimental collaborations in this field, A Large Ion Collider Experiment (ALICE) at Large Hadron Collider (LHC), CERN, Geneva and Compressed Baryonic Matter (CBM) experiment at future Facility for Anti-proton and Ion Research (FAIR) at GSI, Germany (c) Data analysis and interpretation (d) Simulations and software development and (e) Model based studies.
Publications:
Selected list of publications:
10. Sumit Kumar Kundu, Saikat Biswas, Subhasis Chattopadhyay, Supriya Das, Anand Kumar Dubey, Chandrasekhar Ghosh, Ajit Kumar, Ankhi Roy, Jogender Saini, Susnata Seth and Sidharth Kumar Prasad; Development of a water-based cooling system for the Muon Chamber detector system of the CBM experiment; Nucl. Instrum. Meth. A 1050 168143 (2023); arXiv: 2204.09752 [physics.ins-det]
9. ALICE Collaboration; Measurements of the groomed and ungroomed jet angularities in pp collisions at √s = 5.02 TeV; Jour. of High Energ. Phys. (JHEP) 05 061 (2022); DOI: 10.1007/JHEP05 (2022) 061; arXiv: 2107.11303 [nucl-ex]
8. A. Kumar, A. Agarwal, S. Chatterjee, S. Chattopadhyay, A. K. Dubey, C. Ghosh, E. Nandy, V. Negi, S. K. Prasad et al.; Commissioning and testing of pre-series triple GEM prototypes for CBM-MuCh in the mCBM experiment at the SIS18 facility of GSI; JINST 16 09, P09002 (2021); DOI: 10.1088/1748-0221/16/09/P09002; arXiv: 2108.05646 [physics.ins-det]
7. Sumit K. Saha, Debojit Sarkar, S. Chattopadhyay, Ashik Ikbal Sheikh, Sidharth K Prasad; Study of medium modified jet shape observables in Pb-Pb collisions at √sNN = 2.76 TeV using EPOS and JEWEL event generators; Nucl. Phys. A 1006 122064 (2021); DOI: 10.1016/j.nuclphysa.2020.122064; arXiv: 2101.02685 [hep-ph], 2111.01200 [nucl-th]
6. Rathijit Biswas, Subikash Choudhury, Sidharth K Prasad, Supriya Das; Study of jet- medium interactions using jet shape observables in heavy ion collisions at LHC energies with JEWEL; Jour. of Phys. G 46 9 095004 (2019); DOI: 10.1088/1361-6471/ab2e69; arXiv: 1906.05513 [hep-ph]
5. R. P. Adak, S. Biswas, S. Das, D. Ghosal, S. K. Ghosh, A. Mondal, D. Nag, T. K. Nayak, R. N. Patra, S. K. Prasad, S. Raha, P. K. Sahu, S. Sahu, S. Swain; Long-term stability test of a triple GEM detector; JINST 11 10, T10001 (2016); DOI: 10.1088/1748-0221/11/10/T10001; arXiv: 1608.00562 [physics.ins-det]
4. ALICE Collaboration; Charged jet production cross sections and properties in pp collisions at √s = 7 TeV; Phys. Rev. D 91, 112012 (2015); DOI: https://doi.org/10.1103/PhysRevD.91.112012; arXiv:1411.4969 [nucl-ex] (NOTE: The important outcome of the paper is also highlighted in January 27th (2015) edition of the CERN COURIER: https://cerncourier.com/a/profiling-jets-with-alice/)
3. ALICE Collaboration; Inclusive photon production at forward rapidities for proton- proton collisions at √s = 0.9, 2.76 and 7 TeV in ALICE at the LHC; Eur. Phys. J. C 75 4 146 (2015); DOI: 10.1140/epjc/s10052-015-3356-2; arXiv:1411.4981 [nucl-ex]
2. Shantam Ravan, Prabhat R Pujahari, Sidharth K Prasad, Claude A Pruneau; Correcting Correlation Function Measurements; Phys. Rev. C 89 2, 024906 (2014); DOI: 10.1103/PhysRevC.89.024906; arXiv: 1311.3915 [nucl-ex]
1. Sidharth K. Prasad, Victor Roy, S. Chattopadhyay, A. K. Chaudhuri; Elliptic flow (v2) in pp collisions at energies available at the CERN Large Hadron Collider: A hydrodynamical approach; Phys. Rev. C 82 024909 (2010); DOI: 10.1103/PhysRevC.82.024909; arXiv: 0910.4844 [nucl-th]
View More
Teaching:
1. Subject: Interfacing and Computing Tools
( M. Sc. Semester-2, Paper-MPHC4252, Module: CE-IC)
2. Subject: Fundamentals of Linux/Unix
(PhD course work: A-level course)
3. Subject: Computer Programming and Monte Carlo simulations for High Energy Physics
(PhD course work: B-level course)
Students:
| | | | | | | |
| --- | --- | --- | --- | --- | --- | --- |
| Image | Name | Designation | Department | Campus | Contact number | Email |
| | Abhi Modak | Senior Research Fellow | Physics | Unified | | abhimodak@jcbose.ac.in |
| | Mintu Haldar | UGC Junior Research Fellow | Physics | Unified | | mintu2017mh@gmail.com |
| | Prottoy Das | Senior Research Fellow | Physics | Unified | | dasprottoy000@gmail.com |
Former:
1. Mr. Vipul Pant (IIT, Kanpur, UP; 2022)
Summer project: Understanding particle and jet production mechanism in pp collisions and jet-medium interactions in PbPb collisions at LHC energies

2. Mr. Shivam Maharaj (NIT, Rourkela, Odisha; 2022)
Summer project: Study of photon production in forward rapidity region using ALICE experiment at LHC

3. Mr. Umesh Kumar (Bose Institute, Kolkata, WB; 2021)
Master thesis: Study of inclusive photon multiplicity and its √s dependence at LHC energies 
4. Mr. Sunil Batesar (Bose Institute, Kolkata, WB; 2021)

Master thesis: Photon production in pp collisions at 5.02 TeV with ALICE
5. Mr. Abhi Modak (Bose Institute, Kolkata, WB; 2018)
Master thesis: Evolution of jet production with centre-of-mass energy in proton-proton collisions at LHC

6. Mr. Prottoy Das (Bose Institute, Kolkata, WB; 2018)

Master thesis: Study of jet properties in proton-proton collisions using PYTHIA simulations
7. Mr. Keshav Kumar (Applied Physics Department, S. V. NIT, Surat, Gujarat; 2018)
Summer project: Study of a water based cooling system for the Muon Chamber detector of the CBM experiment

8. Ms. Nilanjana Nandi (Rajabazar Science College, Calcutta University, Kolkata, WB; 2018)
Summer project: Differentiating quark and gluon jets using R80 observable 

9. Ms. Debapriya Das (IIT (ISM), Dhanbad, Jharkhand; 2018)
Summer project: Study of underlying events and their multiplicity dependence in pp collisions at 7 TeV
10. Mr. Nirmalkumar Shiroya (Applied Physics Department, S. V. NIT, Surat, Gujarat; 2017)
Summer project: Contributions of quarks and gluons to final state jets in pp collisions and their momentum, rapidity and energy dependence