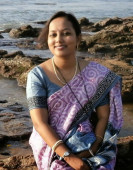 Moitri Basu
INSPIRE Faculty
Download CV
Research interests:
Elucidating the dynamicity in epigenetic landscape leading to alterations in gene expression in diseased condition.
Contact:
Address:
Department of Biophysics
Centenary Campus
Bose Institute
P-1/12 C.I.T. Scheme VII-M
Kolkata - 700054, India
E-Mail:
moitrri.basu[at]jcbose.ac.in
Phone:
+91-33-25693334
Research:
Publications:
1. Basu M, Sengupta I, Khan W, Srivastava DK, Chakrabarti P, Das C. Dual histone reader ZMYND8 inhibits cancer cell invasion by positively regulating epithelial genes. Biochem J. 2017 Apr 21. doi: 10.1042/BCJ20170223.
2. Basu M, Khan MW, Chakrabarti P, Das C. Chromatin reader ZMYND8 is a key target of all trans retinoic acid-mediated inhibition of cancer cell proliferation. Biochim Biophys Acta, 1860, 450-459 (2017).
3. Adhikary S, Sanyal S, Basu M et al. Selective recognition of H3.1K36 dimethylation / H4K16 acetylation facilitates the regulation of ATRA-responsive genes by putative chromatin reader ZMYND8. J. Biol. Chem, 291, 2664 - 2681 (2016).
4. Basu M, Bhattacharya R, Ray U, Mukhopadhyay S, Chatterjee U, Roy SS. Invasion of ovarian cancer cells is induced by PITX2-mediated activation of TGFb and activin-A. Mol Cancer, 14:162, (2014). doi:10.1186/s12943-015-0433-y.
5. Basu M, Mukhopadhyay S, Chatterjee U, Roy SS. FGF16 promotes invasive behavior of SKOV-3 cancer cells through the activation of MAPK signaling pathway. J. Biol. Chem. 289, 1415 - 1428 (2014). 
6. Basu M, Roy SS. Wnt/b-catenin pathway is regulated by PITX2 homeodomain protein and thus contributes to the proliferation of human ovarian adenocarcinoma cell, SKOV-3. J. Biol. Chem, 288, 4355 - 4367 (2013).
7. Ghosh S, Basu M, Roy SS. Ets-1 regulates vascular endothelial growth factor-induced matrix metalloproteinase-9 and matrix metalloproteinase-13 expression in human ovarian carcinoma cell, SKOV-3. J. Biol. Chem. 287, 15001-15015 (2012)
View More
Teaching:
Present:
| | | | | | | |
| --- | --- | --- | --- | --- | --- | --- |
| Image | Name | Designation | Department | Campus | Contact number | Email |
| | Nilanjana Maji | JRF | Biophysics | Centenary | 25693334 | dola.biotech@gmail.com |
| | Swarnali Kar | JRF | Integrated M.Sc. Ph.D. | Centenary | 25693311 | swarnalikar1994@gmail.com |
Former:
Ph.D Fellow: Ms Nilanjana Maji
Group News: