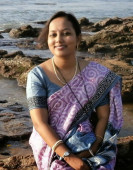 Moitri Basu
Ex-
Research interests:
Structure-function study of gene promoter from the perspective of its local epigenetic state.
Crosstalk between metabolic alterations and epigenetic reprogramming in diseased condition.
Contact:
Address:
Department of Biophysics
Centenary Campus
Bose Institute
P-1/12 C.I.T. Scheme VII-M
Kolkata - 700054, India
E-Mail:
moitrri.basu[at]jcbose.ac.in
Phone:
+91-33-25693334
Research:
Publications:
1.      Basu M, Sengupta I, Khan W, Srivastava DK, Chakrabarti P, Roy S, Das C. Dual histone reader ZMYND8 inhibits cancer cell invasion by positively regulating epithelial genes. Biochem J. 2017;474(11):1919-1934
2.      Basu M, Khan MW, Chakrabarti P, Das C.Chromatin reader ZMYND8 is a key target of all trans retinoic acid-mediated inhibition of cancer cell proliferation. BioChim Biophys Acta 2017;1860(4):450-459.
3.  Sen K, Bhattacharyya D, Sarkar A, Das J, Maji N, Basu M, Ghosh Z, Ghosh TC. Exploring the major cross-talking edges of competitive endogenous RNA networks in human Chronic and Acute Myeloid Leukemia. Biochim Biophys Acta 2018;1862(9):1883-1892.
4. Adhikary S, Sanyal S, Basu M et al. Selective Recognition of H3.1K36 dimethylation / H4K16 acetylation facilitates the regulation of ATRA-responsive genes by putative chromatin reader ZMYND8. J Bio. Chem. 2016; 291(6), 2664-2681. 
5.  Basu M, Bhattacharya R, Ray U, Mukhopadhyay S, Chatterjee U, Roy SS. Invasion of ovarian cancer cells is induced by PITX2-mediated activation of TGF-β and activin-A. Mol Cancer 2015;14(1):162. doi: 10.1186/s12943-015-0433-y.
6. Basu M, Mukhopadhyay S, Chatterjee U, Roy S S. FGF16 promotes invasive behavior of SKOV-3 ovarian cancer cells through the activation of MAPK signaling pathway. J. Biol. Chem.  2014; 289 (3), 1415-1428.
7. Basu M, Roy SS. Wnt/β-catenin pathway is regulated by PITX2 homeodomain protein and thus contributes to the proliferation of human ovarian adenocarcinoma cell, SKOV-3. J Biol Chem. 2013; 288:4355-4367.
8. Ghosh S, Basu M, Roy SS. ETS-1 regulates vascular endothelial growth factor-induced matrix metalloproteinase-9 and matrix metalloproteinase-13 expression in human ovarian carcinoma cell SKOV-3. J. Bio. Chem.  2012; 287, 15001-15.
View More
Teaching:
1. Cell Biology (Course 407)
2. Animal Developmental Biology (Course 507)
3. Molecular and Cellular Biology core (Course 602)
Students:
| | | | | | | |
| --- | --- | --- | --- | --- | --- | --- |
| Image | Name | Designation | Department | Campus | Contact number | Email |
Former:
1. Ms. Nilanjana Maji (CSIR-JRF)
2. Ms. Swarnali Kar (Int M.Sc-PhD)
Group News: