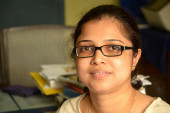 Anupama Ghosh
Assistant Professor
Download CV
Previous appointments:
Post-Doctoral Research Fellow at Department of Organismic Interactions, Max Planck Institute for Terrestrial Microbiology 
Research interests:
Functional studies on secreted effector proteins from different phytopathogenic fungi
defense mechanisms of host plants against pathogen invasion involving apoplastic proteins
Contact:
Address:
Division of Plant Biology
Centenary Campus
Bose Institute
P-1/12 C.I.T. Scheme VII-M
Kolkata - 700054, India
E-Mail:
ghosh.anupama[at]jcbose.ac.in
Phone:
+91-33-25693348
Research:
·         Survival strategies of corn smut fungus Ustilago maydis during host colonization
Ustilago maydis is a biotrophic fungus that infects Zea mays. During host colonization the fungus is exposed to a number of plant defense responses like for instance elevated levels of reactive oxygen species (ROS) in the vicinity of the invasion site. Depending upon the compatibility of the pathogen and the host strain this ROS stimuli can either initiate a cell death response in the pathogen or could be overcome by the defense responses of the pathogen itself. In this project we are engaged in dissecting these survival and death pathways of Ustilago maydis during a compatible and incompatible interaction with the host plant Zea mays.
·         Functional characterization of U. maydis effector proteins
Effector proteins are key factors defining the virulence of a phytopathogenic fungus like Ustilago maydis. In this project we are engaged in investigating the functions of different groups of secreted effector proteins from Ustilago maydis in the context of their role in manipulating host defense responses.
·         Functional proteomics of rice apoplastic fluid
This project is aimed to study the apoplastic fluid proteome of rice under conditions of pathogen invasion. Through this study we are investigating on one hand the in-planta secretome of different pathogens infecting rice and on the other hand rice secreted proteins that play crucial roles in defense against pathogen invasion.  
Publications:
1.     Mukherjee D, Gupta S, Saran N, Datta R, Ghosh A*. Induction of apoptosis-like  cell death and clearance of stress induced intracellular protein aggregates: dual roles for Ustilago maydis metacaspase Mca1. Molecular Microbiology 2017, Sep 23, doi: 10.1111/mmi.13848. 
2.     Ghosh A*, Raha S. Proteases from protozoa and their role in infection. Proteases in physiology and pathology 2017, pp 143-158 (book chapter)
3.    Ray D, Ghosh A, Banerjee Mustafi S, Raha S. Plant stress response: HSP70 in the spotlight. Heat shock proteins and plants 2016, pp 123-147 (book chapter)
4.     Ghosh P, Roy A, Hess D, Ghosh A,  Das S. Deciphering the Mode of Action of a Modified Allium sativum Leaf Agglutinin (mASAL), a Potent antifungal Protein on Rhizoctonia solani. BMC Microbiology 2015; Oct 26;15:237.
5.     Ghosh A*, Raha S. Molecular and functional characterization of a stress responsive cysteine protease, EhCP6 from Entamoeba histolytica. Protein Expression and Purification 2015  May;109:55-61. doi: 10.1016/j.pep.2015.02.005.
6.     Ghosh A*. Small heat shock proteins (HSP12, HSP20 and HSP30) play a role in Ustilago maydis pathogenesis. FEMS Microbiology Letters 2014 Sep 22; doi: 10.1111/1574-6968.12605
7.     Djamei A£, Schipper K£, Rabe F, Ghosh A, Vincon V, Kahnt J, Osorio S, Tohge T, Fernie AR, Feussner I, Feussner K, Meinicke P, Stierhof YD, Schwarz H, Macek B, Mann M, Kahmann R. Metabolic priming by a secreted fungal effector. Nature 2011 Oct 5; 478(7369): 395-8. doi: 10.1038/nature10454.
8.      Ghosh AS, Ray D, Dutta S, Raha S. EhMAPK, the mitogen-activated protein kinase from Entamoeba histolytica is associated with cell survival. PLoS One 2010 Oct 8; 5(10): e13291. doi: 10.1371/journal.pone.0013291.
9.     Ghosh AS, Dutta S, Raha S. Hydrogen peroxide-induced apoptosis-like cell death in Entamoeba histolytica. Parasitology International 2010 Jun; 59(2): 166-72. doi: 10.1016/j.parint.2010.01.001. Epub 2010 Jan 15.
10.     Dutta S, Sardar A, Ray D, Raha S. Molecular and functional characterization of EhPAK3 a p21 activated kinase from Entamoeba histolytica. Gene 2007 Nov 1;402(1-2):57-67. 

£ Contributed equally
                   * Author for correspondence
View More
Recognition:
Selected as DST-INSPIRE Faculty by Department of Science and Technology (DST), India, 2013
Recipient of Postdoctoral Fellowship from Max Planck Society, 2010-2013
Teaching:
" Plant Molecular Biology Course " in the Integrated M.Sc. PhD Programme of Bose Institute. 
Topics covered:
1. Transport of micro and macro molecules
2. Plant stress signalling during pathogen (bacterial and fungal phytopathogens) invasion 
Present:
| | | | | | | |
| --- | --- | --- | --- | --- | --- | --- |
| Image | Name | Designation | Department | Campus | Contact number | Email |
| | Dibya Mukherjee | SRF | Division of Plant Biology | Centenary | 25693348 | mukherjee.dibya90@gmail.com |
| | Rahul Datta | SRF(I) | Division of Plant Biology | Centenary | 25693348 | rahuldatta638@gmail.com |
| | Subhasish Mukherjee | JRF | Division of Plant Biology | Centenary | 25693348 | s.mukherjee |
| | Udita Acharya | JRF | Division of Plant Biology | Centenary | 25693348 | uditaacharya11 |
Former:
Rahul Datta, JRF (Email: rahuldatta638@gmail.com) 
Dibya Mukherjee, JRF (Email: mukherjee.dibya90@gmail.com)
Udita Acharya, JRF (Email: uacharya93@gmail.com)
Subhasish Mukherjee, JRF (Email: mukherjeesubhasish30@gmail.com)
Aroni Mitra, JRF (Email: aronimitra28@gmail.com)
Srimoyee Banerjee, CSIR-RA (srimoyee1717@gmail.com)
Group News: